5 Covid-proof apps for mental and physical fitness
5 Covid-proof apps for mental and physical fitness
Our favourite health-enhancing tech apps
17 February 2021
While old school workouts and channeling your inner-Rocky by lifting logs and chopping wood makes for an entertaining montage, it cannot be ignored that fitness technology has come a long way in recent years. Whether you want to maintain good health or realize your true potential as an athlete, there are now a plethora of smart fitness gadgets that will help you attain your fitness goals.
This year, we could witness the fitness industry achieve covid-proof status when traditional forms of fitness routines and exercise were prohibited across the globe. It is estimated that by 2027 the industry will be worth an astounding $12.62 billion golden dumbbells. A very lucrative, yet competitive industry.
Whether you are a serious athlete, benchwarmer, or yogi, our list of carefully selected smart fitness gadgets and apps will get you to the next level and beyond.
Where the magic happens: Amsterdam 
Tech highlight: Vue / VueX / Thyme / SSR / PHP / CircleCI / Docker / MariaDB 
In 2020 gyms and fitness studios were forced to adapt and shift towards virtual classes and online personal training. Luckily for Fitchannel, they were already in good virtual shape. From apps to abs, they know the drill.
Their virtual gym offers its users more than 800 different workout videos, from high-intensity training to cardio, yoga, and more. Fitchannel also gives you the flexibility of adjusting workouts to your own routine standards, no tools needed, working with personal trainers that will motivate you virtually, and tracking your own training progress. And to help you with a healthy diet they provide more than 1000 healthy recipes to support your fitness routine. 
We are always interested to learn more about how start-up and scale-up products are built. We sat down with Fitchannel's Community Manager, Yaela Klems, to learn more about their mission, services, and tech stack. 
What can you tell us about your tech stack?
"Getting people to start working out means they have to change their daily routine. We've chosen our tech stack to support these behavioral changes. Combining our event-driven database and our knowledge of behavioral changes, we empower customers to start and continue working out. Giving customers insights into their sports habits and personal growth, we are realizing a huge improvement in retention figures over brick and mortar gyms." "Some of the frameworks we work with are Vue, VueX, Thyme, and SSR on the frontend, and PHP, CircleCI, Docker, and MariaDB on the backend. We're shifting from startup to scaleup, so we're evaluating our stack and defining a target architecture."
What sets Fitchannel apart in such a competitive industry?
"Our mission is to get people moving, and so do we. We are aware of the number of new competitors, yet it keeps us sharp – Fitchannel keeps on developing, improving, and surprising clients with new courses and product innovations. We've built our virtual gym to be a true experience. Our personal trainers are both training and entertaining, as they create an involved and personal atmosphere during work out sessions. It's the same dedicated approach for our clients' exercise planning: kicking off with working out goal setting, extended with nutrition advice and schemes. We also offer WhatsApp coaches that will support you to keep your commitments (working out, nutrition, lifestyle) through motivating notifications and texts."
Visit their website here.
Where the magic happens: Talinn

Tech highlight: Flutter / Node.JS / Android
We've all seen the hilarious 'If 2020 was a X' memes. The draft beer with foam only depicted as 'If 2020 was a beer' or the picture of portable toilets on fire described as 'if 2020 was a scented candle', the list goes on and on. Prioritizing our mental health has become increasingly important as we deal with the aftermath of what was 2020. Optimizing our cognitive function and improving our quality of sleep at night has become more important than ever.
Synctuition has seriously raised the bar on mental functioning and enhancing sleeping patterns.  Last year, the Estonian-founded mindfulness and relaxation app was selected by Google as one of the top 10 fastest growing startups in Europe – now accelerating faster than ever. 
Synctuition has pulled it off: using technology to create a refreshing spa experience for your mind, requiring only your smartphone and earphones. The app captures 4 hours of deep meditation in just 25 minutes to help achieve balance. Talk about a return on investment! With their one-of-a-kind technology and impressive collection of 13000+ sounds, it can trick your brain and make you feel like you're elsewhere.
Allan Eesmaa, Platon Tinn, and Joosep Tinn, the creators of Synctuition, seem to use tech for more than relaxation. They have dedicated themselves to use tech for good as well, now offering the app for free to all Estonian residents to enhance the population's mental health during the pandemic. 
Ready to catch some Zs? Explore their app here. 
Where the magic happens: Berlin 
Tech highlight: Ruby / Kotlin / AWS / IoT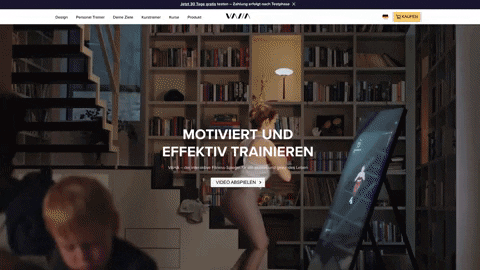 Now, this is what we call innovative technology and hardware! This team has completely revolutionized what we know as the at-home workout. VAHA equips every user with a smart fitness mirror that gives access to personalized sessions for body, mind and maintaining a diet at home. This Berlin-based start-up has mastered the art of motivating to reach their full potential from their own living room.

Perfect timing 
VAHA was founded by Valerie Bures and Calin Popescu (CTO) at the right time: their first direct sales launched officially in March '20, at the very start of the pandemic outbreak. Almost a year later, the company just received new funding. Even though the value is undisclosed, it has been estimated to be above 20 million euros. The London-based investment company Unbound was leading this funding round, along with other investors (Porsche, HV Capital, Global Founders Capital). 
The fitness mirror operates like a smart TV, as users can exercise in front of the mirror, use the device for Zoom conferences, and for stylish furniture when switched off. Fun fact: Manuel Neuer, the legendary goalkeeper of the German football team, uses VAHA as his personal fitness goalkeeper.
Take a closer look here.
Where the magic happens: Hillegom 
Tech highlight: C++ / Git / SVN
You know what they say: it ain't much if it ain't Dutch! Living in the Netherlands is inseparable from cycling as a form of transportation and exercise. Covid might stop us from going to the office, but it won't stop us from cycling – thanks to TrueKinetix. 
A few years ago Bas van Rens tried to qualify for the World Championships Ironman Hawaii and fell short by 8 minutes due to indoor training that did not prepare him for the outdoor resistance. Later, while driving in his electric car, Bas had an epiphany: "When using my car brakes, a motor was used to create resistance and slow it down. This could be used for indoor cycling as well: to improve training by creating the right resistance." 
To gear up our indoor cycling know-how, OQ sat down with its founder, Bas van Rens. 
How would you describe your success formula?
"To achieve the critical resistance, we use the technology of a strong engine, combined with smart algorithms and fast electronics. Our intelligent robot determines more than 10.000 times per second which pressure the bike pedal needs to deliver to correspond with the outside resistance." 
TrueKinetix benefitted from accelerated customer feedback for their TrueBike 1.0. Thanks to quarantine, their cyclists optimally utilized their indoor bikes – making it possible for TrueKinetix to optimize their product with enough user feedback. After fully optimizing their first TrueBike, the TrueBike 2.0 followed last October and offers an even better controlling system. Fun fact: their test rides have an impressive 75% conversion rate with plenty of prospective buyers signed up to a waiting list. The team is working hard to give every new customer its TrueBike within 8 weeks.
What are your post-covid expectations for door cycling?
"We expect this to be the future. We are on a great wave of indoor-athletes, as people want to stay physically active, safe, and combine this with their busy schedules." 
Check them out here, or book a test ride
Where the magic happens: Rotterdam
Tech highlight: TypeScript / React Native / React / Node.JS / AWS / Kotlin / Swift / Redshift / Java
One of the lessons a pandemic taught us, is to never take outdoor adventures for granted. The Dutch-founded adventure app Relive encourages its users to keep creating and sharing outdoor adventures, while of course sticking to covid-guidelines
We spoke to Relive's Jayla Cosentino about their app and core mission: 
How many users does Relive currently have?
"We have over 100,000 users coming from 167 countries and uploading nearly 20 million activities per month – and we're just getting started. Now we've set our eyes on 100 million users in the next 3 years." 
Tell us more about the team behind Relive?
"At Relive, we have 33 employees, almost half of whom are developers. A lot of our success comes down to how we work. First, we rely on TypeScript across the stack (from mobile to backend) therefore, all engineers at Relive can work closely together and have an impact all across the product. We also use a very modern tech stack: React Native / React / Node.JS / AWS which allows us to ship fast and gets our code out to our users in days instead of months. In addition to our tech stack, another part of our success is from working in autonomous product teams that consist of 6 people – a Product Manager, Product Designer, Technical Lead, 2 Full Stack Developers, and a Data Analyst. Everyone is an individual contributor and they work together to find solutions. We currently have 4 of these teams who each focus on a specific segment of our product. When doing things at Relive, we like to ship features and learn fast to create a product people love to use and share. This means we are constantly testing, iterating, and using data to understand what our users want."
Join their community and share your adventures here.
Want more from Orange Quarter?
Subscribe to our monthly newsletter for the latest news in technology, jobs and advice from industry experts.